With the Coronavirus pandemic still going strong, we didn't know what to expect sailing to Catalina Island for the Independence Day holiday. The fireworks and parade had been cancelled. Last year we had so much fun sailing to Avalon for the 4th of July, we just had to do it again. This year since we needed to socially distance ourselves, we decided to just go as a couple and not with a group. We thought it would be a fun way to be socially distant but still celebrate the holiday. And we were so right.
Would Catalina be Crowded During the Pandemic?
Getting a mooring at Catalina on the fourth of July can be a challenge. We didn't know what to expect sailing during the Coronavirus pandemic. Would it be deserted at Catalina or packed as usual? Just to be safe I decided to make it a five day trip and arrive early, three days before the holiday. This turned out to be a great plan because by July 3rd every mooring was taken on the entire west side of the island. Virus or no virus, boats were lining up and a waiting list was growing. The harbor patrols was telling people to go around to Cat Harbor on the other side. So much for a deserted pandemic holiday!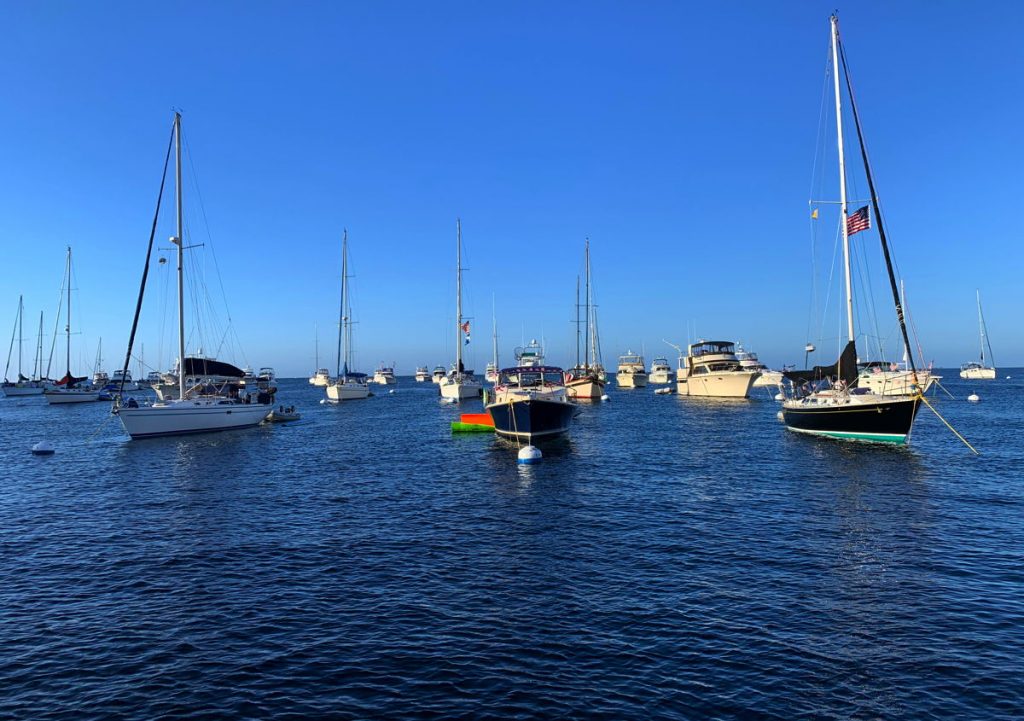 Sailing Knotty Gull – A Beautiful Jeanneau 33i
We sailed from Marina Del Rey to Catalina on a 2010 Jeanneau 33i "Knotty Gull." She was a pretty boat. Perhaps a bit small for a five day charter, but with just the two of us it wasn't really a problem. She had a bimini but no dodger which was good and bad at times. The visibility was great from the wheel but there were times when we wished for a bit more shelter from the sun and wind.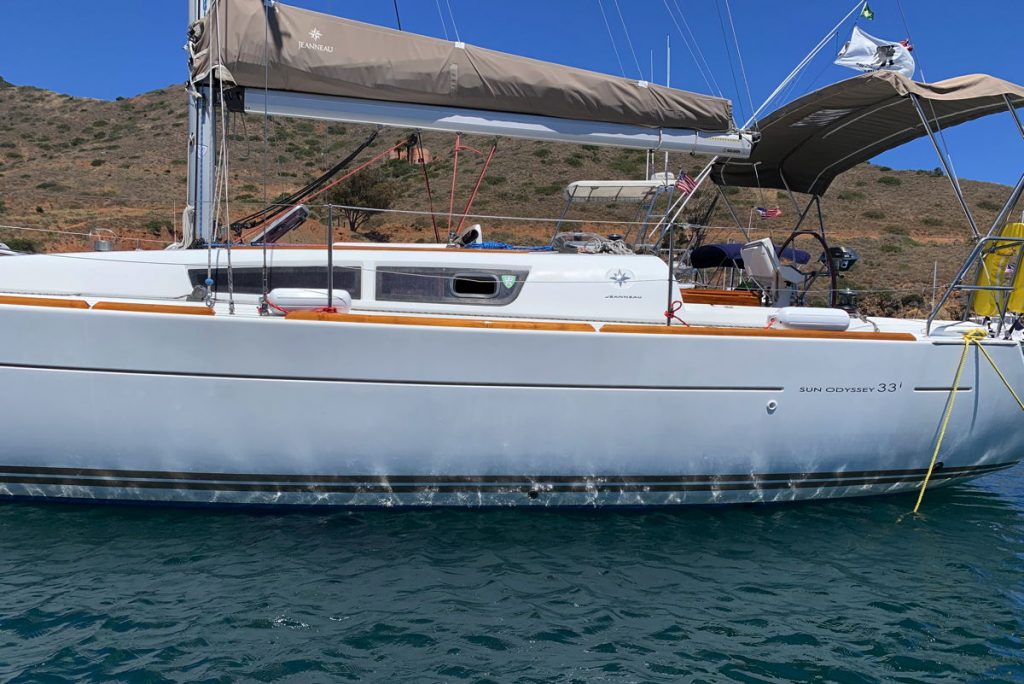 Plenty of Catalina Moorings Still on July 1st
We motored for five hours averaging 6 knots in the calm morning to arrive around 16:00 Wednesday afternoon. The mooring field at Isthmus cove was only 30 percent full and we got a great spot! We moored at B4 in the second row on the west side. With the wind from the west we had a good amount of shelter from the cliffs high above us. Arriving three nights early was a bit of a luxury since I had the entire week of vacation. But if we do it again I would still try to arrive two nights early to beat the crowds.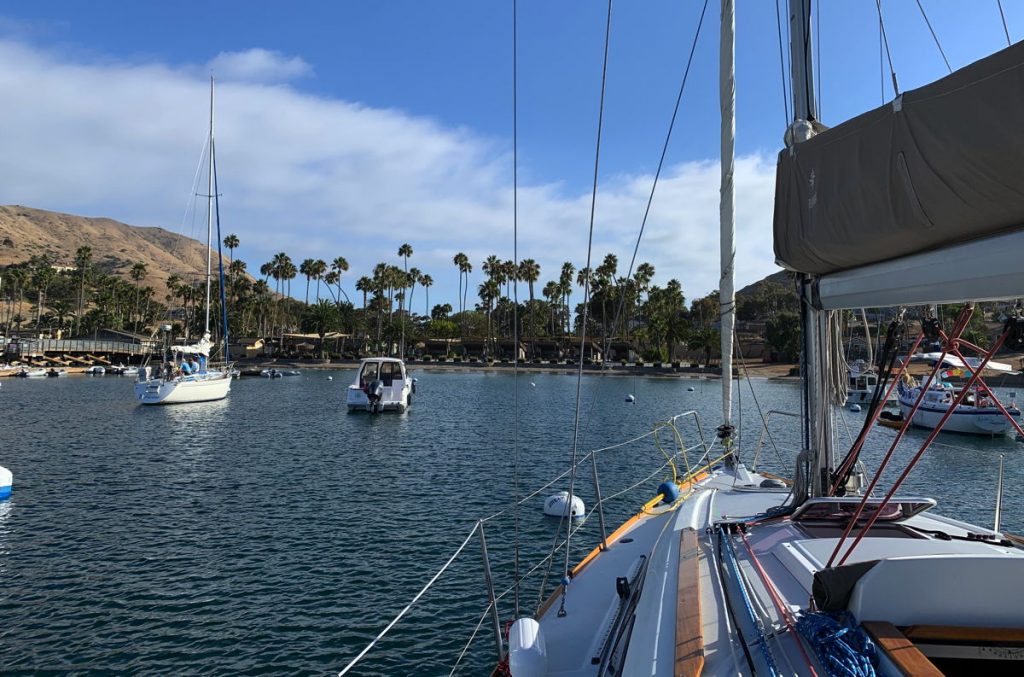 Hiking Above Two Harbors
After a restful night on our mooring we enjoyed the sunny clear morning with breakfast and headed to shore for a hike up into the hills. I was determined to see a Catalina Bison. We walked up into Two Harbors and made a left onto Banning House Road. There's no street sign but it's a left at the Isthmus Yacht Club. From here the trail got incredibly steep.
We hiked up about two miles to the Trans-Catalina Trail. It was surprisingly hot and there was no shade. With only one bottle of water we decided to abandon my idea of going all the way to Little Harbor. This would have been five miles each way. Maybe next time when it's not so hot or when we're more prepared. From up in the hills on the Trans-Catalina trail the view was fantastic, and you could see both sides of the Isthmus from Cat Harbor to Isthmus cove. It was really picturesque with all the boats, blue water and perfectly clear sunny skies.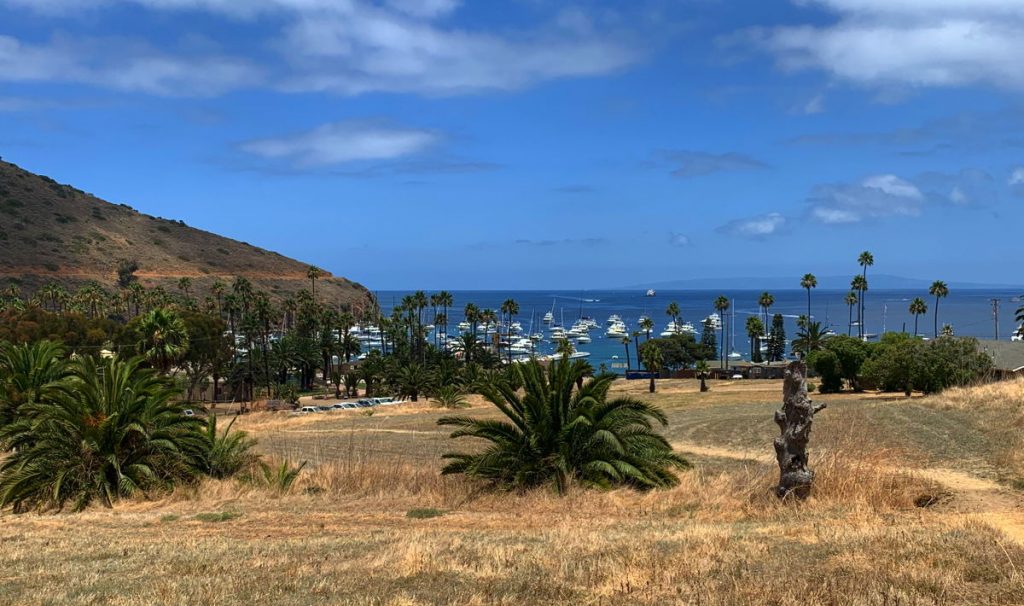 Two Harbors General Store
Back at Two Harbors we went T-Shirt shopping at the Two Harbors General Store. I really love this store since they have so many bizarre things in there. It was pretty apparent around the village that things were just reopening from the Coronavirus lockdown. I had read online of people complaining of long waits at the restaurant and cold food. We didn't really have that problem, only eating in town once and the food was perfectly fine. But I had tried to call the restaurant and they didn't answer. There was a line of people to sit down but it really wasn't that bad.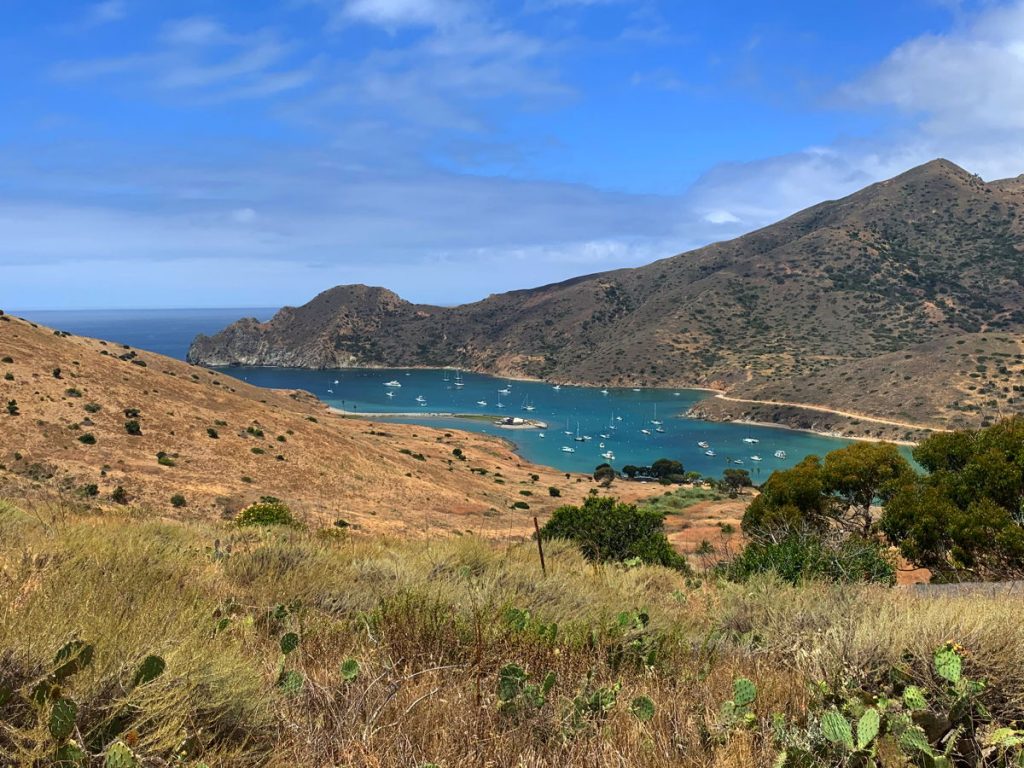 Water Toys and Snorkeling
Heading back to the boat we found the mooring field filling up, and we met our really nice neighbors who were from Alamitos Bay near Long Beach. They had quite a selection of inflatable water toys. I need to remember to bring one of those giant inflatable rafts next time to float around on! We had a delicious BBQ dinner that night and the next day was similar. We didn't hike but I went snorkeling and saw some Garibaldi. The water was 65 degrees and pretty murky by the boats, but if I went to the edges where the rocks are it was crystal clear! 22:00 to 07:00 is quiet hours in Catalina. This is when all the generators switch off and we could really enjoy the quiet dark moonlit night.
Harbor Sands on July Fourth
For the Independence Day holiday I had reserved a couple beach chairs at Harbor Sands. In case you're not familiar, this is the roped off area with white sand where there are tables, beach chairs and these palapas where families can spend the day. I know that this operation is unpopular with some boaters who have been coming to Two Harbors for years. A lot of people comment that it feels too commercial and they object to having to pay for access. But we enjoyed it and I was glad I made the reservation. On the Fourth of July to be able to reserve a spot only for you is worth a few bucks in my opinion. They provided clean towels and umbrellas and served us food and drinks all afternoon. Every chair and palapa was full on the fourth of july and they were spaced out appropriately for social distancing. The servers all were wearing appropriate protective gear. If you're going on a busy holiday and beach chairs are your kind of thing, you can make a reservation on the Harbor Sands website.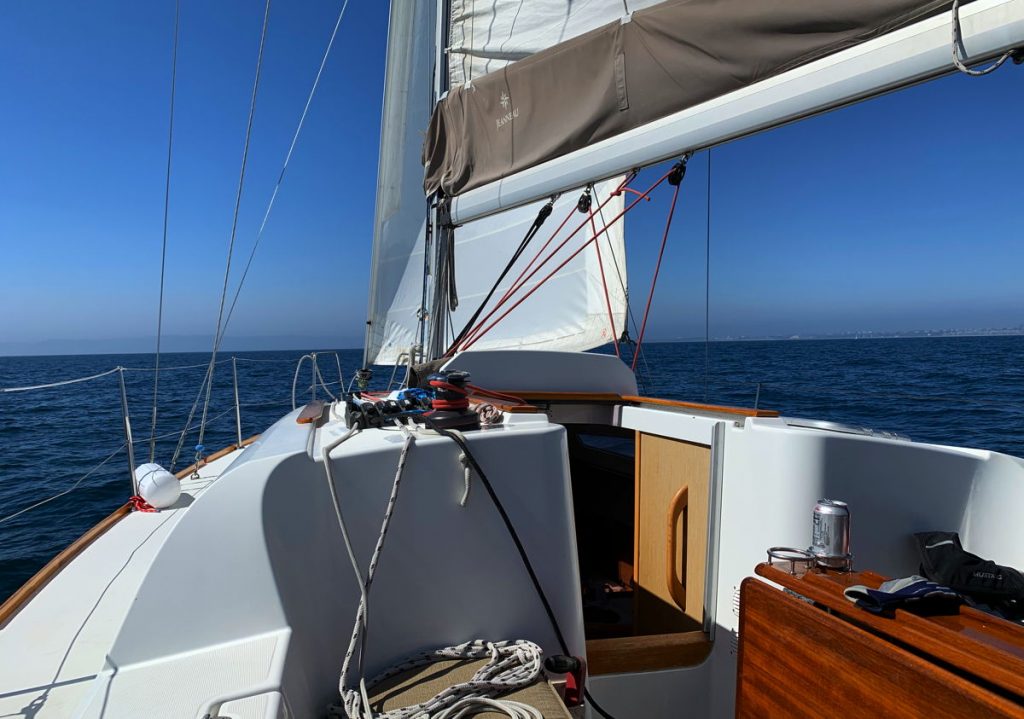 Flares Aren't a Substitute for Fireworks
The night was pretty low key except for a party boat next to us and some yahoos who thought it would be cool to fire off flares into the mooring field from their boats. It wasn't very cool however when one of the flares landed on a boat. The harbor patrol was zooming around questioning everyone trying to work out who did it. It sometimes amazes me the stupid things that people do!
Sailing Back to Marina Del Rey
Finally Sunday came and it was time to sail home to Marina Del Rey. We dropped our mooring and motored out, deciding to head up to the west end and check out the coastline. I was amazed by how many people were squeezed into every anchorage along the way. Emerald bay was packed with boats all anchored bow and stern. We spent some time at Parson's Landing where there was just one other boat anchored before heading home. It was about noon and the wind was just beginning to pick up. We actually sailed all the way to El Segundo before the wind died and had to turn on the engine.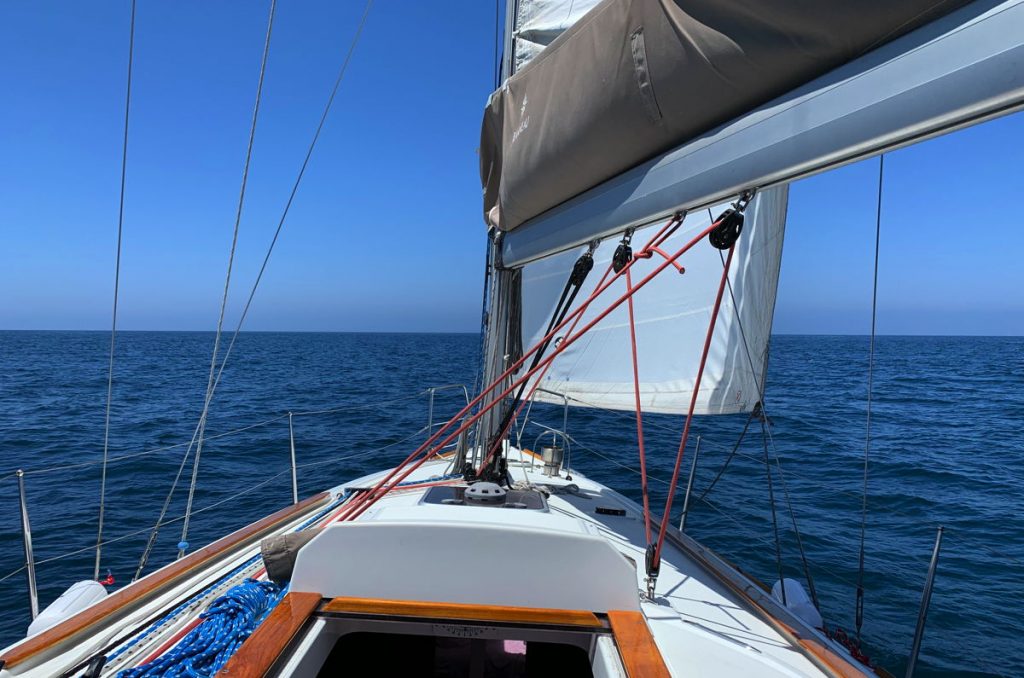 Sailing Was A Safer Choice During Coronavirus
With another Independence Day sail to Catalina a wrap, I can see why it's become a tradition for so many boating families. It would have been fun to bring more people on a bigger boat but with COVID-19 out there that wasn't in the cards. But this pandemic will pass like everything else and sailing will return to normal. But we were lucky to have this opportunity to have a socially distanced vacation on our mooring.
Have you been out sailing during the pandemic or on the Fourth of July? Please leave a comment.