This my friends, is my idea of a party boat. A party boat with a capital "P". A vacation vessel that will make me want to wear my funny grass sun hat and invite eight of my closest friends on an adventure to the nearest island. And I just might cry when it's time to go home. Yes, I kind of liked this Lagoon Catamaran.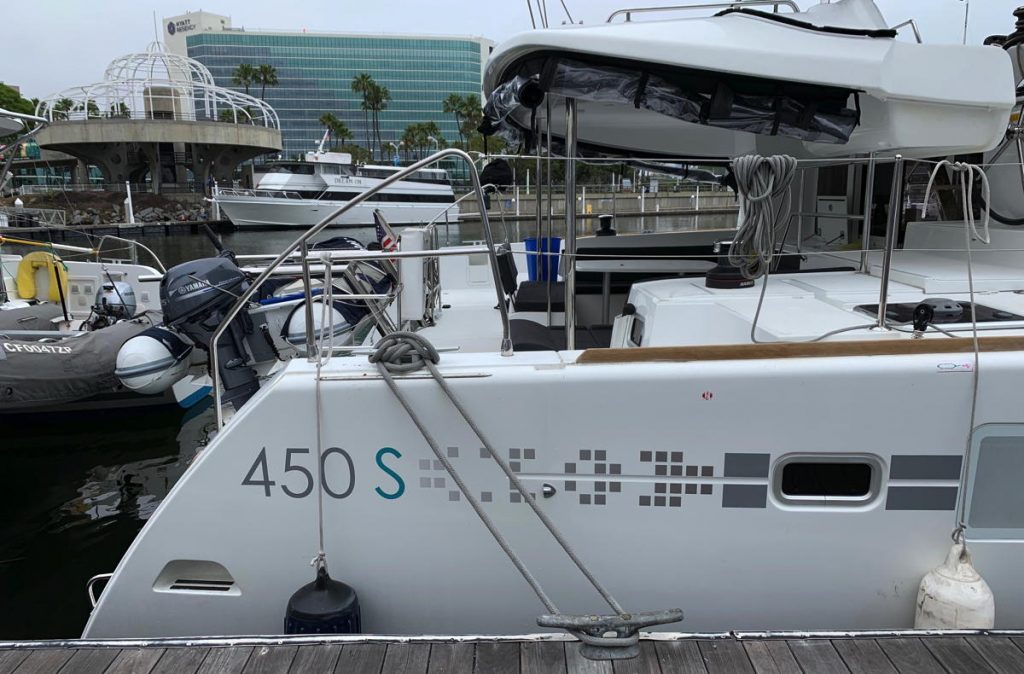 Marina Sailing's Big Catamaran Checkout
Recently I visited Long Beach to attend Marina Sailing's Big Cat Checkout. They recommend this course to people looking to charter their large Lagoon and Leopard catamarans. These cats are new and some of the nicest in Southern California available for charter. To take the class, ASA 114 is a prerequisite.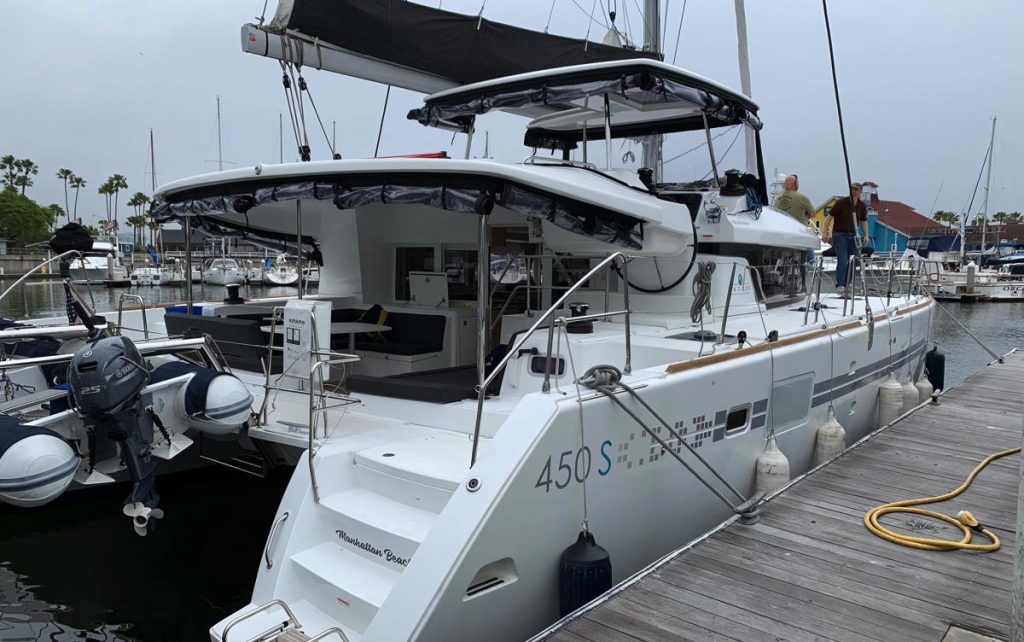 Room for all your Friends, Gear and Ready for Fun
It's no secret that I'm a fan of catamarans. I really think in the future, multihulls will dominate charter fleets. There's just so much space for guests and gear, they make monohulls feel cramped. Of course there's a time and place for everything, and a catamaran doesn't feel the same as a monohull when under sail. But a lot of the time I want to have lots of guests and a cat is simply the way to go.
Our cat was a Lagoon 450S called 'Some Tuesday'. I've sailed smaller catamarans but this boat is fantastic and in a totally different league. Standing at the dock I can see why they require this checkout. Everything is twice the size of a 40′ monohull and the forces the rigging must withstand are tremendous. The sidestays are huge and it has large powerful electric winches at the helm.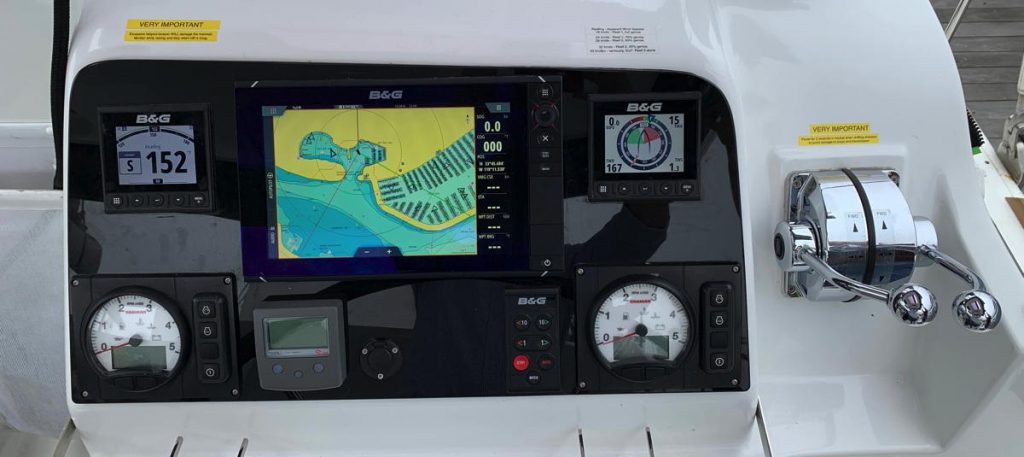 A Tour of the Lagoon 450S
Our instructor who is a very experienced Captain, showed us all the boat's systems. We started by removing some of the plastic covers around the helm. This Lagoon catamaran is the sport top model where the helm is raised about halfway above the roof, providing excellent visibility. The electronics at the helm was a B&G Zeus Chartplotter setup. The only thing I thought was missing was a VHF radio handset by the wheel. The radio was down inside at the navigation table.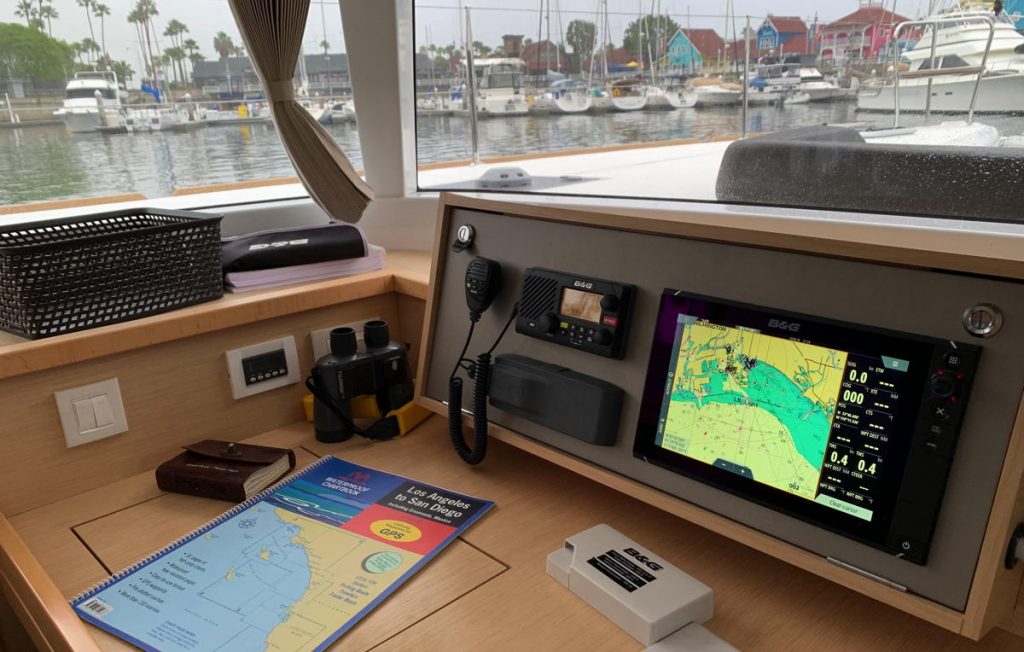 Plenty of Power for Motoring
After getting the boat opened up we had a look at how to start the engine. There were two 57 horsepwer Yanmar 4 Cylinder engines for plenty of power. When we motored around in the harbor the engine power was really impressive and with the two engines spaced so far apart, performing standing turns was easy.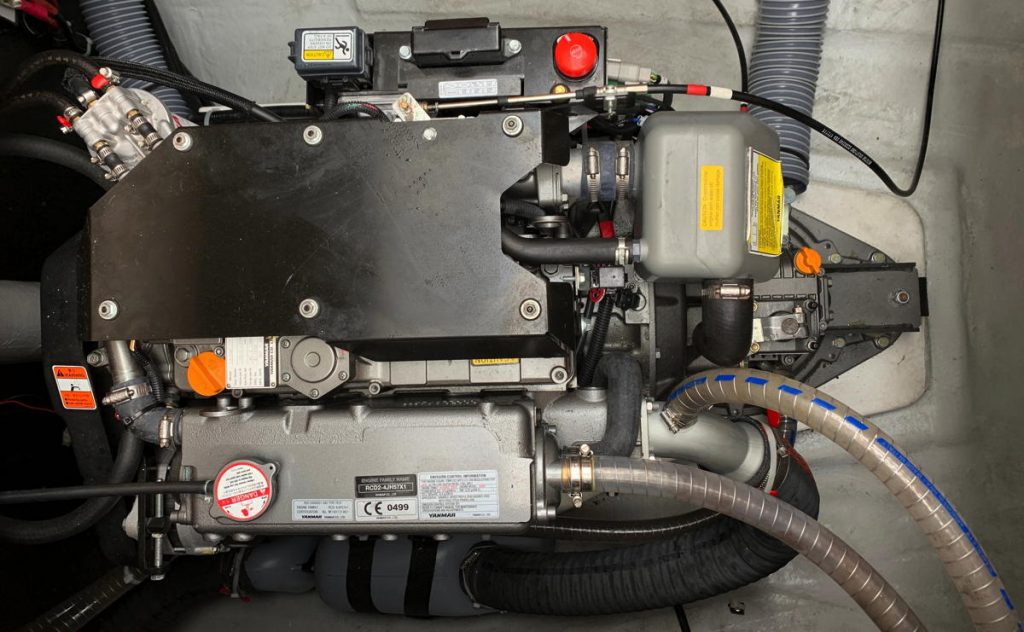 DC Panel Shore Power and Generator
Inside the rear cabins are the battery switches, circuit breakers and in the main cabin we went over the DC circuit panel. This boat has shore power and a generator for air conditioning. I thought it was interesting the shore power circuit breaker had a sliding latch so you can only turn on shore power or the generator not both.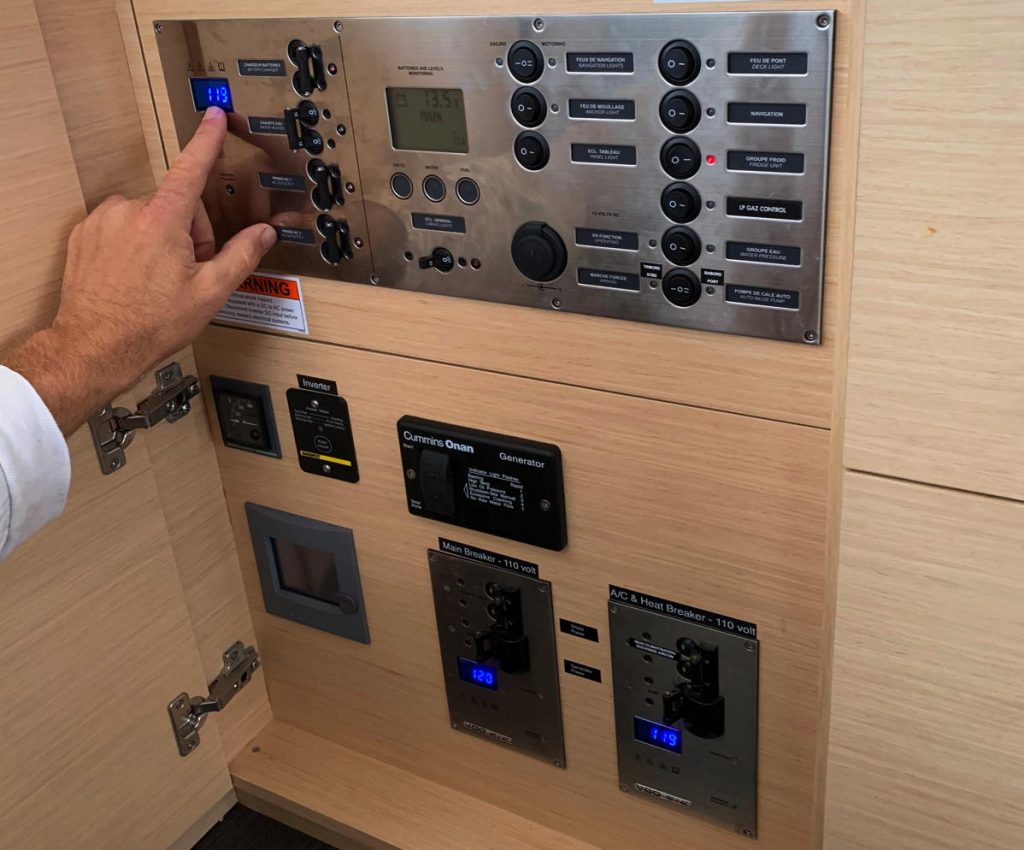 Practice Docking and Mooring
This big catamaran has a lot of windage. We talked about untying the docklines and how we would likely twist in the opposite direction from a monohull, since our windage was in the rear. Motoring out into the harbor, we practiced picking up a mooring and docking. Once away from the dock the boat didn't feel so large and was much easier to maneuver than a monohull with the two engines.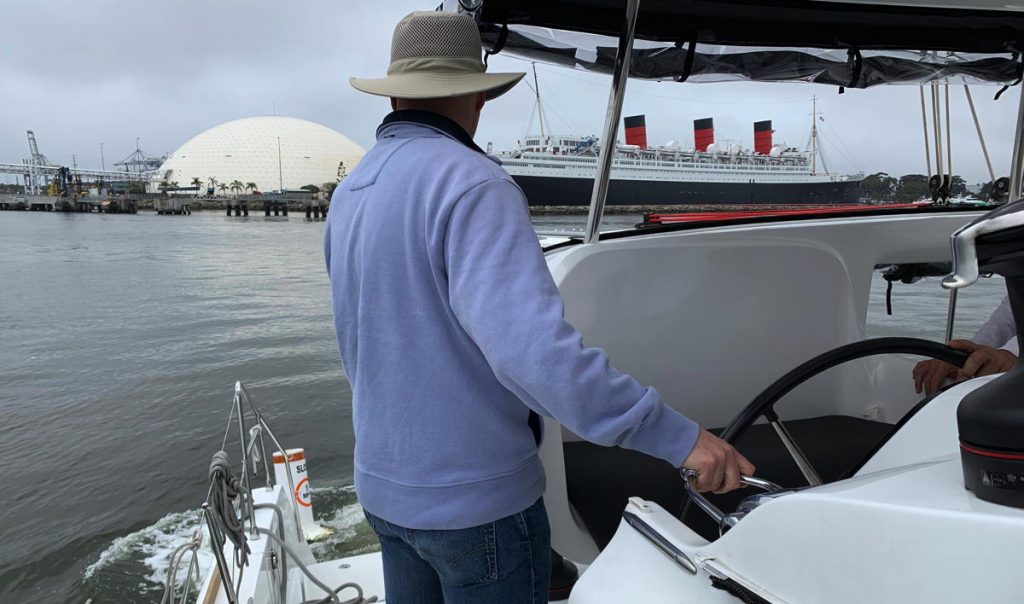 A Sailing Vacation Anyone?
Unfortunately we didn't get to sail that day. But I can imagine with such a large sail area this boat is fast. I'm not sure when I'll get to sail her, but I'm thinking of planning a summer trip maybe next year. If anyone else wants to come along let me know. We can get out to Catalina from here in no time!