Finally, it's Summer! For the first sail of the season we wanted to do something different. With our usual northwest winds in Santa Monica Bay, we often wind up sailing in the same directions. From Marina Del Rey you can sail north towards Pacific Palisades, or you can sail south past the ES2 buoy towards Palos Verdes. On rare days when we have south winds you can sail to Malibu, but this is uncommon. For a while we've been talking about sailing to Point Dume but conditions were never right for sailing that direction. So finally today on the first day of summer we decided to just motor up there and see what happened. What a great decision!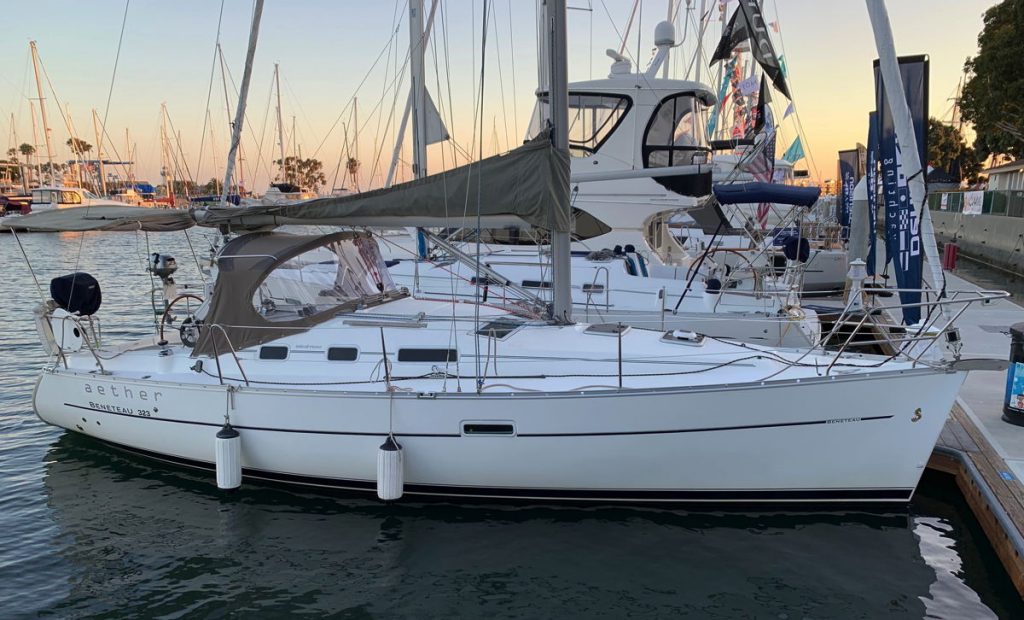 Aether the Beneteau 323
Our sailboat was Aether, a well kept Beneteau 323. We were seven people but it didn't feel crowded in the decent sized cockpit. Someone always likes to sit on the foredeck and there are fold down rear seats on the rail. On our way we had a discussion about whether or not biminis and dodgers are a good thing. I vote yes. This dodger has a really clear window with great visibility. And I like that the bimini can unroll and provide complete shade on a hot day. The main sail was a traditional stack pack with a zipper, my favorite setup. It's so easy to deal with this sail.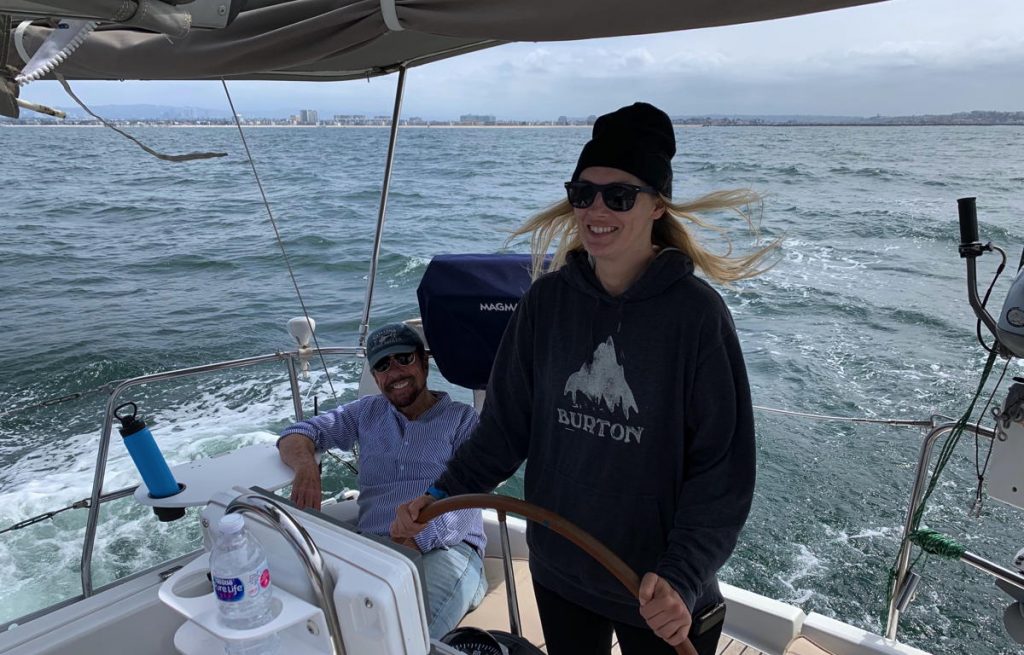 Heading for Malibu
With the wind from the northwest we motored for about three hours towards Malibu. When approaching from Marina Del Rey there's a place where the mountains suddenly become more flat. This is a good landmark to set your heading for Paradise Cove. It was a bit choppy with some white caps on the way. I was concerned that it might not be calm enough at Paradise Cove. I read in Brian Fagan's Cruising Guide to Central and Southern California that Keller's Shelter by Malibu pier can be calmer and more sheltered, so we decided that would be our backup plan. We would go check out Paradise Cove and if the conditions weren't right we'd follow the coast back to Keller's and anchor there instead.

Approaching Paradise Cove
Surrounding Paradise Cove on the Santa Monica Bay nautical chart it says "foul with kelp." The rules are that motorized craft must stay 300 yards offshore. As we approached, the pier and cliffs became visible and at this point the kelp was manageable. There were patches of kelp that were easy to avoid. As the kelp got denser we were in about 40 feet of water. There was one other small boat anchored there and this seemed close enough for us. We wouldn't need too much scope just anchoring for lunch. So we lowered our sail and dropped the hook.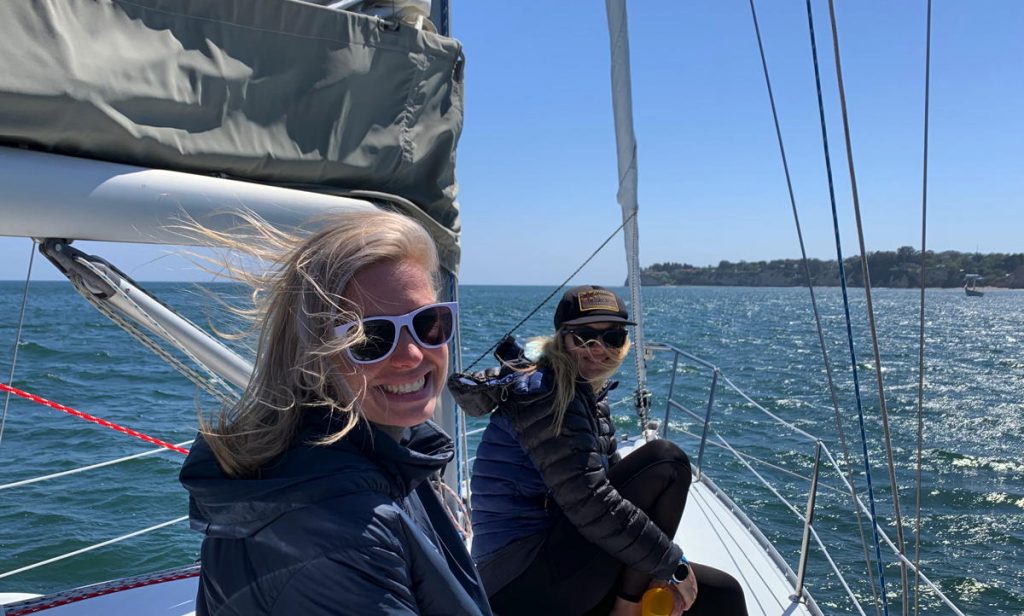 Enjoying Lunch at Anchor in Paradise Cove
As it turned out we picked an absolutely gorgeous day to visit! It was chilly but the sun was out and the wind was somewhat blocked by Point Dume. The water was reasonably calm here and we were swinging a bit but not badly. Everyone brought food and drinks to share, and it was a nice couple of hours just enjoying lunch and the scenery. There was a lot of activity on the beach and at Paradise Cove Cafe, but we were not bothered being the only sailboat anchored there.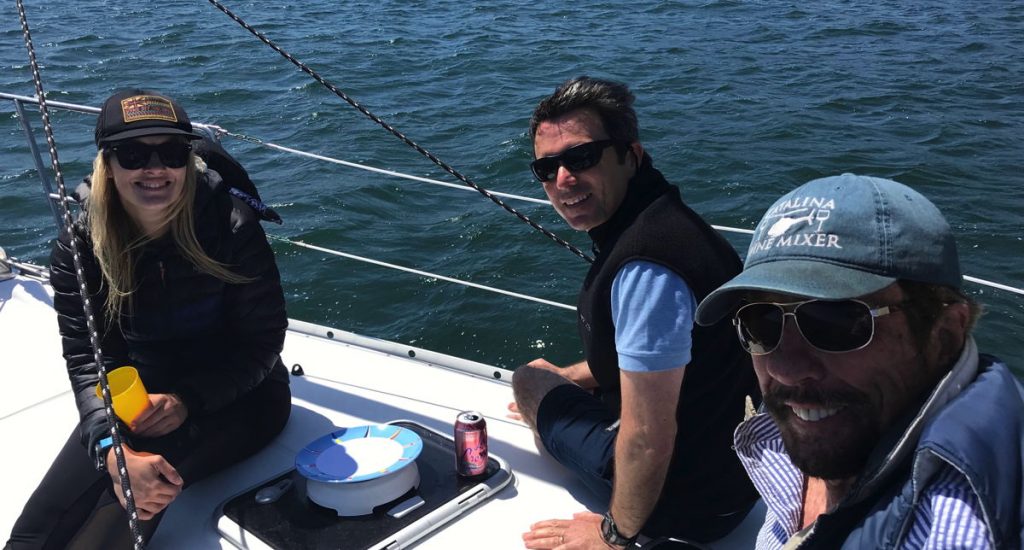 An Unexpected Problem
As the sun was getting lower and we had about 15 nautical miles to get home, we decided to get underway. There's no electric windlass on Aether so it's a bit of work to deal with the anchor, but we got it stowed and raised the mainsail. Suddenly when tensioning the main halyard there was a loud noise and flapping sound.
As I looked up I could see the sail wasn't right. Somehow the main halyard shackle had come loose and the sail came down, leaving the halyard up there way out of reach. Crap! This was just fantastic. At this point I was having visions of being forced to motor all the way home. Well I suppose if there's no challenge in the day it's not really sailing right? Luckily, we were able to use the spinnaker halyard. It was coming out the wrong side of the mast but we were able to rig it and raise the main to the first reef point. It was getting pretty windy anyway so this would be fine!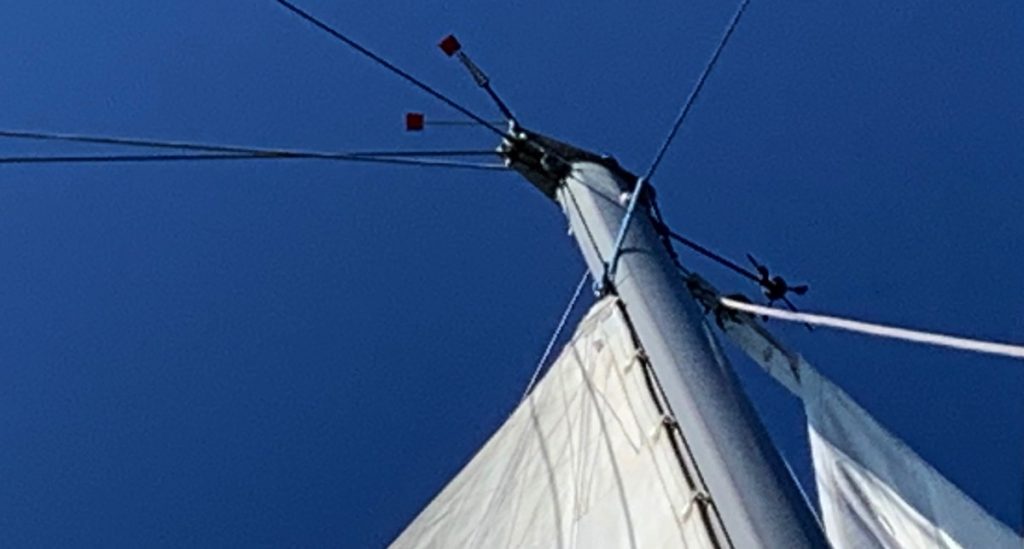 Sailing Back to Marina Del Rey
Heading southeast home we got to sail wing on wing almost all the way back to Marina Del Rey. This was fantastic! It takes a lot of concentration at the helm, but we were hitting 7 knots with the swell behind us and it was a really nice and long downwind run!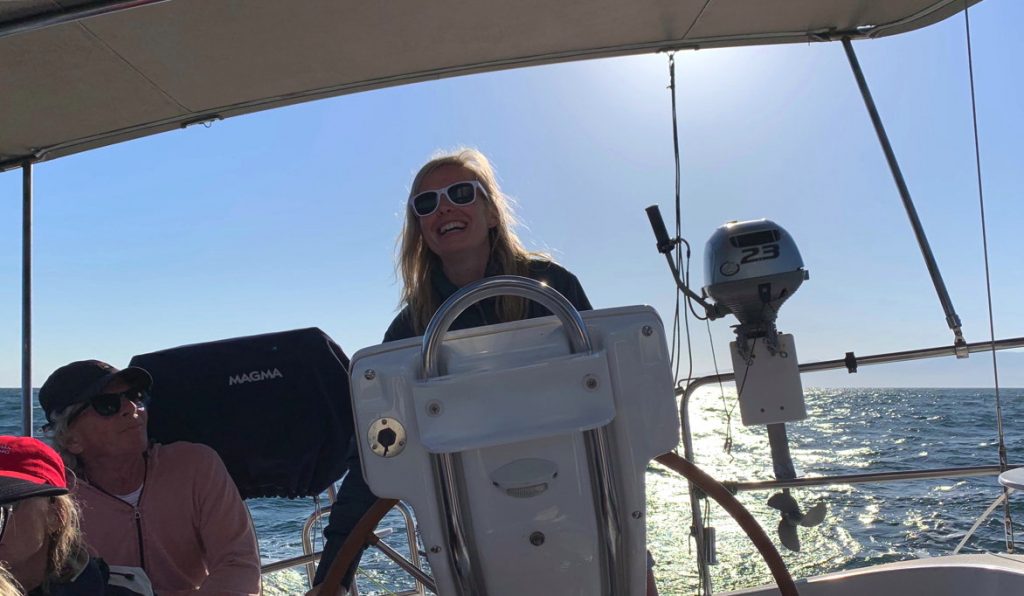 Back in Marina Del Rey the Marinafest boat show was going on and it was total chaos. The hordes of boats and people milling about made me grateful for our few hours of solitude. It was just us up there in Paradise Cove, sort of like a private viewing of the world on shore. Sitting at anchor I even got to pick out a couple of future houses as well! But seriously, it was a fun day with a great crew and we made some new friends. A perfect first sail of the summer!