This year it was a fantastic 4th of July sailing weekend! We sailed to Catalina Island from Long Beach with a group of eight people and had an incredible time. It was one of those trips where things work out unexpectedly well. A fun reminder that sometimes luck is on your side. Here's why.

A Busy Weekend in Avalon
I've always been told to avoid busy holiday weekends at Catalina island. That "you'll never get a mooring" and "it'll be a zoo." I've heard stories about someones dinghy getting stolen by beer chugging youths and a kid who got run over while swimming through a crowded mooring field. Fortunately, none of these myths would come true this time.
Our charter boat was a beautiful one year old 42′ Lagoon catamaran "Quiver" with four cabins and four heads. Two of the heads had walk in shower stalls. Even though we were eight people, it never felt crowded with plenty of areas to socialize. There were dining tables and seating inside, outside and also the trampoline up front. The cabin top was easily accessible via stairs for working with the massive mainsail or just lounging in the sun.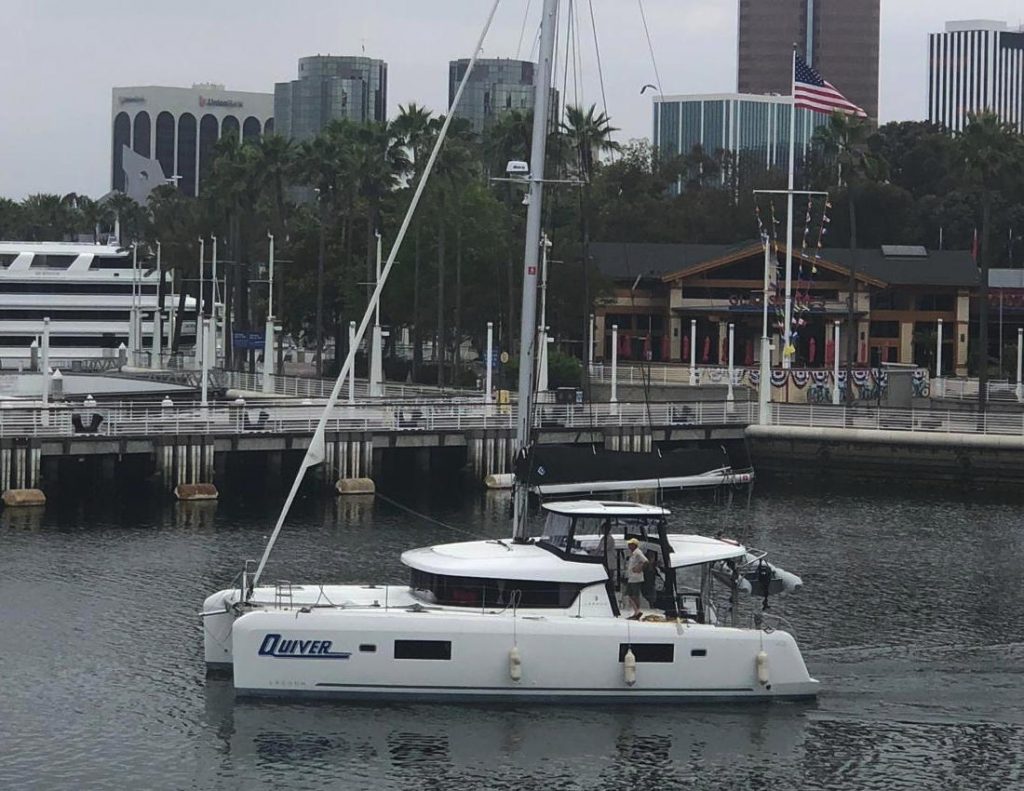 Preparing for Departure
It was a hazy morning in Long Beach as we loaded our provisions. The catamaran had plenty of storage with two refrigerators, a freezer, under seat storage in the salon and two handy under floor storage compartments in the galley. We also brought two coolers full of beverages. We were definitely not going to be hungry or thirsty on this trip.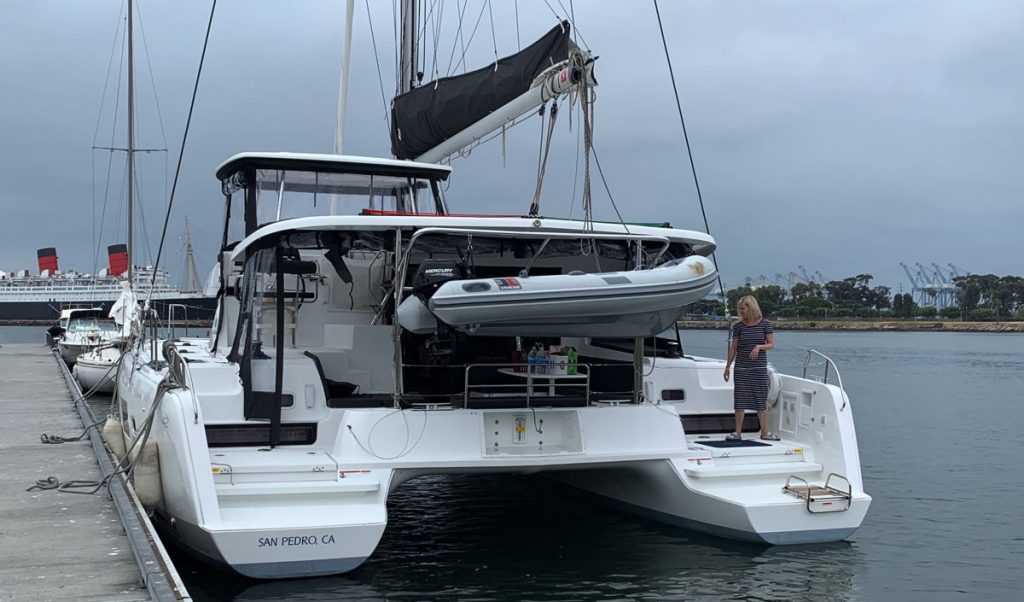 Leaving the dock at Long Beach we put the mainsail up, planning to motorsail until the wind picked up. It was 11AM when we headed for Queens Gate and our heading of 185 degrees magnetic. Quiver motors at 8 knots which put our time to Avalon at just under 3 hours from the breakwater. This catamaran has twin 57 horsepower diesel engines that hummed right along beautifully over the glassy water.
A Stroke of Luck
When approaching Catalina from the north, Avalon appears as a low spot on the left side of the island. The dramatic cliffside Hamilton cove condominiums come into view just west of the low spot, then the Avalon Casino building just to the left. About 30 minutes out we called on the phone to the Avalon Harbor Patrol asking about mooring availability. Moorings are first come first serve in the Avalon area and we were still 30 minutes out, but to our surprise they said if we got there now they had one for us. So we pushed our speed a bit more hoping not to miss it. This was a stroke of luck on a busy holiday weekend!

Arriving in Avalon we waited in the fairway for the red harbor patrol boat to come alongside. They confirmed a mooring was in fact available in Descanso Bay, so we followed a Harbor Patrol boat over and picked up the mooring. What a spot! We had a second row seat with a view of the Descanso Beach Club where there was a huge party going on with a DJ and hundreds of people having a good time. Getting to shore would be a short swim or we could use the paddle board and kayak on the boat.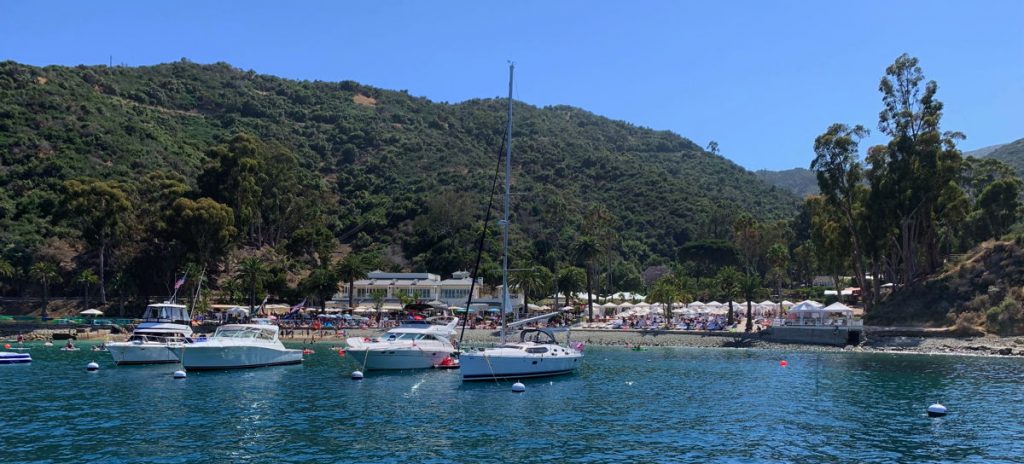 Paddling Ashore
We set up the BBQ on the transom and while someone got that going a couple of us decided to paddle to shore and check out the festivities. It was an insane party on shore so we had a look around and enjoyed some refreshments at the bar. This was turning out better than I expected! Not wanting to miss dinner, after a quick drink we paddled back to the boat.
That night we enjoyed dinner and slept really well! The cabin was large with side tables and a queen sized bed. There was a bit of surge in the water which created a slight up and down motion, but it wasn't too bad. In the morning while the haze burned off we enjoyed coffee and a hot shower.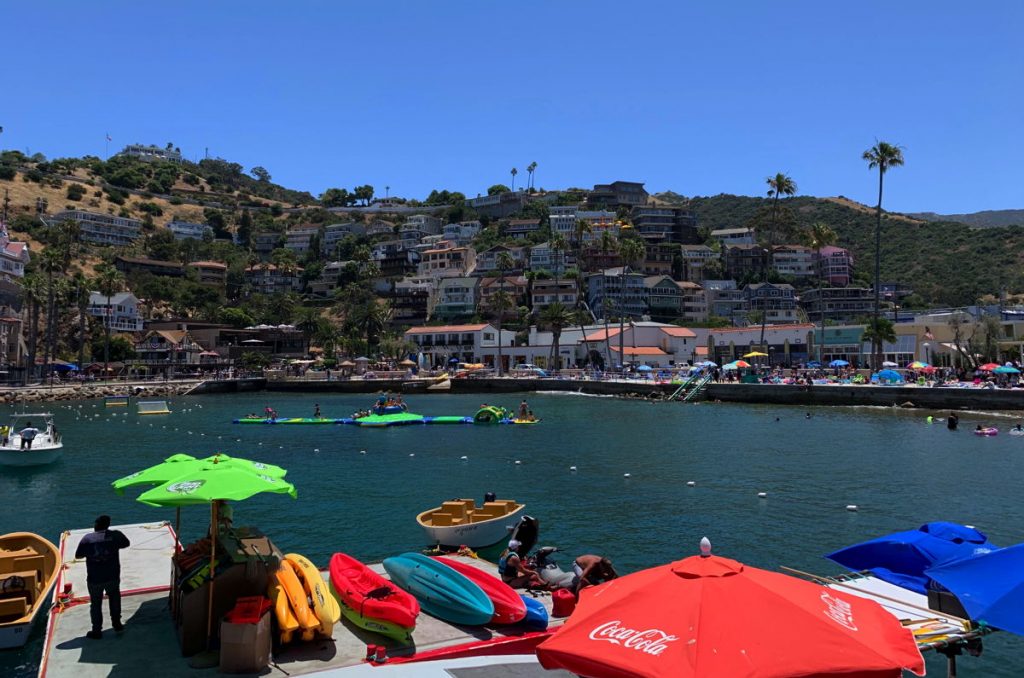 Exploring Avalon
Unfortunately one of our group was feeling pretty seasick so we took them in the dinghy to the Avalon pier. Descanso bay is beautiful but it's a long dinghy ride to Avalon as you have to go east and around a swim area to the next bay where the dinghy dock is.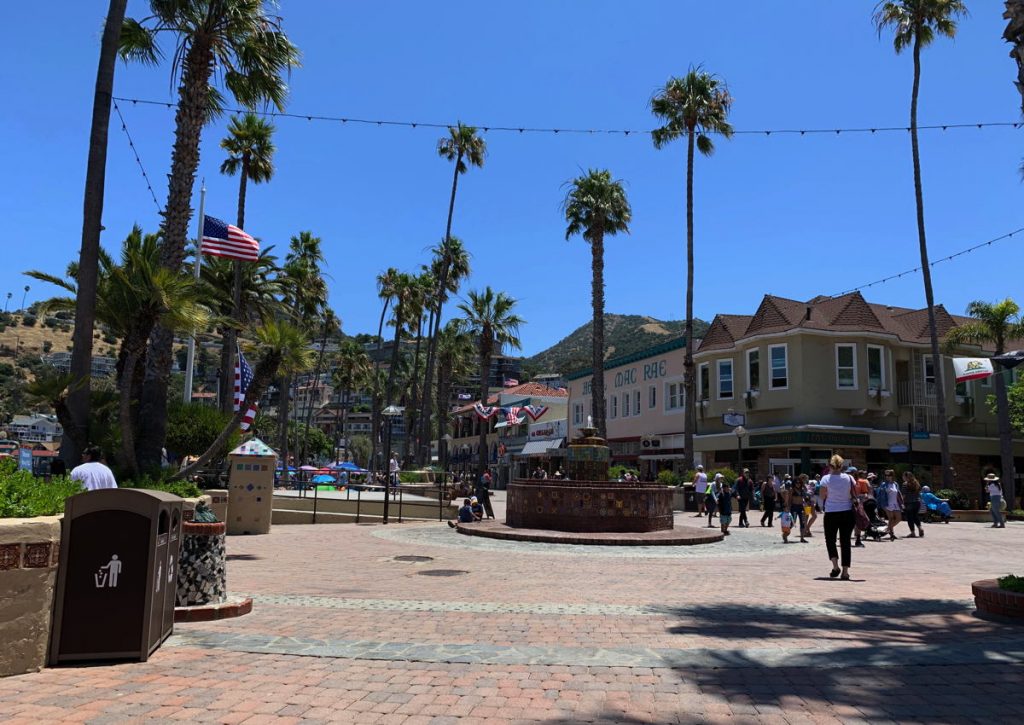 We ate lunch at a waterfront table and strolled around the town. People were having a good time everywhere with the holiday weekend in full swing. We walked by the Avalon casino building and took in the sights. Just past the casino we were back at the Descanso beach club and bumped into some friends from our group. With the sun getting lower we decided to drive the dinghy back and wound up enjoying sundowners on the catamaran trampoline. We didn't go sailing that day but the wind was light and there was so much to see and do on shore we didn't mind at all.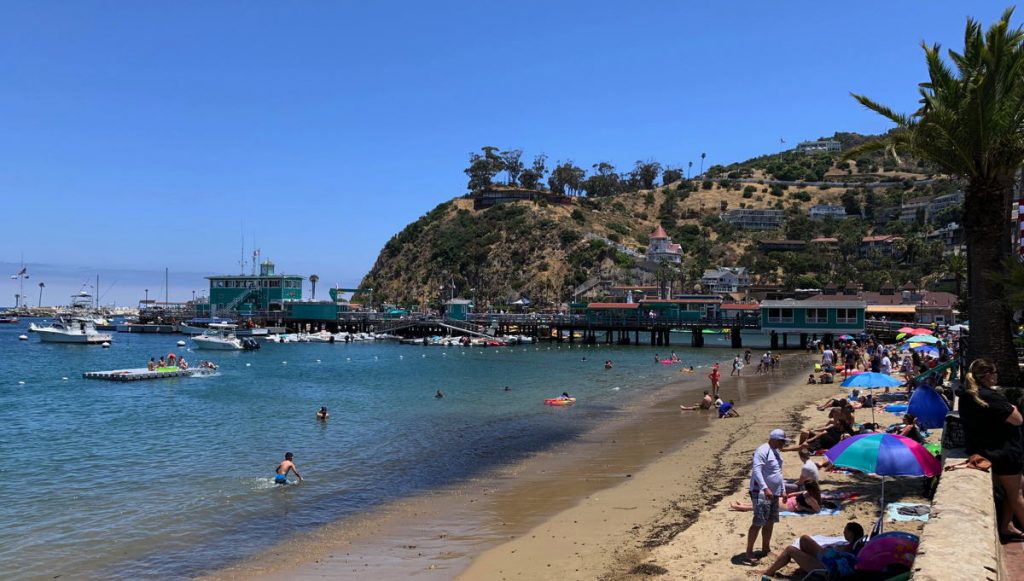 Sailing Back to Long Beach
The morning of our last day some of us went for a swim and then took the kayak to shore. Walking up the path from the beach we found some interesting things to see and do in Descanso. There was a bird show going on and further up the trail was an interesting kind of obstacle course in the trees and some people were riding down on zip lines from way up in the hills. It looked like fun! Up at the top of the path was the entrance to Hamilton Bay Condominiums where we took in the view before heading back.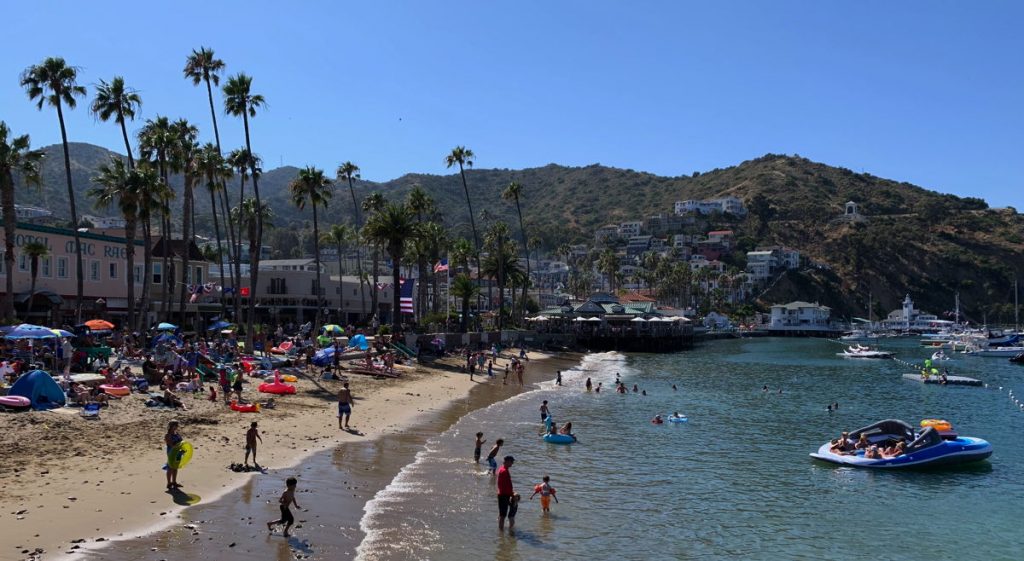 The ride home was calm and glassy, we only sailed for about an hour. As it turned out this trip was more about meeting new friends and less about sailing. If you're thinking about sailing to Avalon on a busy holiday weekend, I say go for it! If you don't get a mooring in the main harbor there are other places nearby. And the Isthmus at Two Harbors it just two hours up the coast.
Have you sailed to Catalina on a busy holiday weekend? Leave a comment below and share your story!